Distinguished lecture series
In this lecture series, speakers from around the world will share their views on advanced topics in embedded systems design with the EMECS students. They will provide insights on the academic and industrial landscape of this field in their home countries. For EMECS students who are interested in pursuing a career in those countries, the invited scholars can also be valuable contact points.

The speakers come from both industry and academia. Some lectures are organized as single talks embedded in an existing course, other lectures are setup as additional courses for earning ECTS credits within the elective program.
Prof. Subhasish Mitra, Dept. of EE and CS, Stanford University, USA
"The Future of Hardware Technologies for Computing: N3XT 3D MOSAIC, Illusion Scaleup, Co-Design".
April 28, 2022, ( TU Kaiserslautern )

Prof. Maciej Ciesielski, University of Massachusetts, USA,
"Synthesis and Optimization of Microelectronic Systems II",
May 09 – July 11, 2022, (TU Kaiserslautern)
Prof. Basel Halak, University of Southampton, UK.

Dr. Markus Wedler, Synopsys, Aachen, Germany.

Prof. André Inácio Reis, Universidade Federal Do Rio Grande Do Sul, Brazil

Prof. Andrew Brown, University of Southampton, UK.

Prof. Lejla Banjanovic-Mehmedovic, University of Tuzla, Bosnia and Herzegovina.

Prof. Mihalis Manatakos, New York University Abu Dhabi, UAE.

Dr. David T Jobling, ASIC Design Group Manager, LEM SA, Switzerland.

Prof. Subhasish Mitra, Stanford University, USA.

Dr. Martin Manley, Senior Director of Technology Development, Power Integrations, San Jose, USA.

Dr. Ivo Bolsens, Chief technology Officier (CTO), Xilinx Inc., San Jose, USA

Prof. M. Singaperumal, Professor Emeritus, Indian Institute of Technology Madras, India.

Prof. Antonio Padilha L. Bo, Universidade de Brasília, Brazil.

Prof. Adolfo Bauchspieß, Universidade de Brasília, Brazil.

Kawe Fotouhi and Dr. Patrick Haspel, Cadence Design Systems.

Prof. Maciej Ciesielski, University of Massachusetts at Amherst, USA.

Dr.-Ing. Christian Sebeke, Robert Bosch GmbH.

Dr.-Ing. Claudia Blank, Infineon Technologies AG.

Prof. Rolf Ernst, TU Braunschweig, Germany.
EMECS-thon is an embedded systems marathon that is organized by EMECS students. Participating teams have 48 hours to develop an embedded system project from scratch. The event is carried out simultaneously in the universities of the EMECS consortium as well as several other universities each year.

Participating teams consist of up to three students. Each team has the flexibility to choose a project topic of their own interest. The event takes place in the fully equipped laboratories of each university. In order to allow the participants to devote the maximum amount of time possible to their projects all meals are provided.

For more information please check the EMECSthon website.
Welcome Notes and EMECS Joint Degree Award
Prof. Dr.-Ing. Wolfgang Kunz, EMECS General Coordinator

Prof. Dr.-Ing. Lothar Litz, Vice President, TU Kaiserslautern

Prof. Dr.-Ing. Norbert Wehn, Dean of Electrical and Computer Engineering

Pedro Torruella, EMECS student, is awarded the first EMECS joint degree.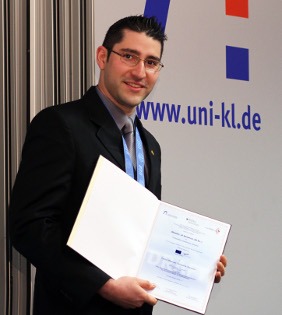 Higher Education and Research in Europe – How to get in shape for the global competition?
A talk with
Prof. Dr. Klaus Landfried
Formerly, President of TU Kaiserslautern
and President of the German Universities Association/Rectors Conference (1997–2003).
Erasmus Mundus Distinguished Lecture
FPGAs Entering the Era of All Programmable SoCs

Dr. Ivo Bolsens

CTO, Xilinx Inc.